**This e-ARC was provided to me for review purposes through NetGalley!**
What it's about:
In this book, a collection of authors tell-all from the point of view of Henry VIII and his Six Wives. Though fictional, the stories of each woman are steeped in history and well-researched.
What I thought:
I enjoyed this book, though is not my usual type of read. However, being a pretty big Anglophile (can't help it, I grew up with an English Nana--it's in my blood, literally), I find myself always having been very interested in the lives of Henry VIII and his many wives (and actually, in real life, I've been in the cathedral in which Henry VIII is buried!). I've read a few other books on the subject, though most of them have been from the pov of Mary or Elizabeth (Henry's daughters, for those not in The Know), so it was quite different for me to see povs directly of Henry and the Wives.

No lie, I actually own this mug.
I also very much enjoyed seeing how the lives of the wives intermingled before Henry was involved. Most texts, I find, rely on either the narrative of Catherine of Aragon or Anne Boleyn, so it was refreshing and interesting to to see/learn more about the other 4 wives.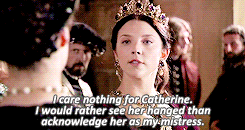 We additionally get to see a bit about each wife from Henry's pov, which, though interesting, gave me an even lowered opinion of him. Guy was a douchebro. And his "motto"? "Sir Loyal Heart"?! Don't even get me started about how *not* true it is.
Yeah yeah yeah, Henry, you're, like, soooo great. Except when you have your wives killed mostly because you found a new hot girl to marry. NOT.
I think my favorite section of the book was that of Anne of Cleves. She was one of the few wives/ex wives that survived Henry, and her section was told through memories/hallucinations as her cancer kills her. Morbid, yes, but also very vivid and imaginative, which broke up the other wives' more monotonous, "Here's what's happening/ what happened" storylines.
There's also a really cool bit at the end from Elizabeth's pov, which really "sticks it to the man", since Henry's last dying entry in the book mentions how glad he is to have a son who will be a great King, and that neither of his daughters will ever be on the throne.
Take THAT, you misogynist!
I also liked Catherine Parr's section. Since she survived Henry while still married to him, it was interesting to see how exactly she managed to *stay* his wife, even though he tried to do away with her.
Overall, I really liked seeing the process of a not necessarily powerful woman suddenly being thrust into the Top Female Spot and seeing how each woman dealt with it, as well as dealing with Henry and his terrible conduct and eventually failing health. There's definitely something regal and yet sort of sad about this book, much like the queens themselves. It's a modern-day obituary that brings to light the feelings, hopes, and dreams of the deceased.
Rating: 3.5 stars.